---
<![if !vml]>

<![endif]>
---
<![if !supportEmptyParas]> <![endif]>
<![if !vml]><![endif]>Setups and Periodic Maintenance
<![if !supportEmptyParas]> <![endif]>
Bill Arnsparger joined us here in 2003 after operating his own repair shop in eastern Pennsylvania for thirteen years. Bill performs most of the periodic service to electric guitars and basses, acoustic and classic guitars, banjos and mandolins. Included in his responsibilities are set ups and fretwork, as well as the installation of new bone nuts and compensated saddles. We are most famous for those set ups! See the Online Workshop for more information on how Bill can make your guitar sound and play better than new.
<![if !supportEmptyParas]> <![endif]>
<![if !vml]>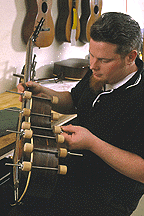 <![endif]>
Restoration
Gearld Strickland specializes in the restoration and artistic repair of all fretted instruments. Unfortunately, accidents happen. Gearld does his best to wipe away your tears and make you forget. With a reputation for making indiscernible, if not invisible, repairs to broken head stocks and cracks in acoustic guitars, instruments are shipped to the midwest from the far corners of this country for Gearld's work.
<![if !supportLineBreakNewLine]>
<![endif]>
<![if !supportEmptyParas]> <![endif]>
Special Projects
<![if !vml]>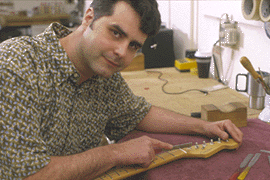 <![endif]>After ten years, John Bolzenius has stepped down from the demanding position as our senior repairman in order to pursue several creative projects in music performance. Formerly performing 2,000 set ups per year accompanied by the bone nuts, saddles and fretwork that comes with those instruments, John is now in the shop part time working on special projects. At the time of this writing, John is restoring a Civil War era Martin guitar sent to us by a collector in Florida.
<![if !supportLineBreakNewLine]>
<![endif]>
<![if !supportEmptyParas]> <![endif]>
<![if !supportEmptyParas]> <![endif]>
<![if !supportEmptyParas]> <![endif]>
<![if !supportEmptyParas]> <![endif]>
Electric Guitar Wiring <![if !vml]>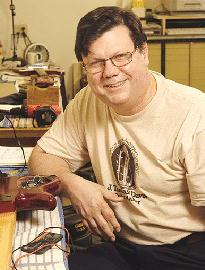 <![endif]>

John Sherman is responsible for electric guitar and bass pick up installations, custom rewiring, and most other electronic projects that you bring to us. John holds a B. S. in Electrical Engineering from Case Western University and a Master of Science in Electrical Engineering from The Ohio State University. John also has quite a reputation as a finger style guitarist and has been featured in Acoustic Guitar Magazine (June '97 and Nov. '98) among other publications. Additionally, John has authored an instruction book for Mel Bay Publications and has contributed to two other Mel Bay books.
<![if !supportLineBreakNewLine]>
<![endif]>
<![if !supportEmptyParas]> <![endif]>

<![if !vml]>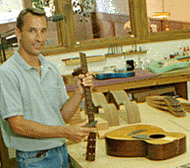 <![endif]>Neck Resets
Randy Ross is a specialist in acoustic guitar neck resets. After years of string tension, many guitars need to be steamed apart so that the neck joint may be recut and then reattached to the body at an increased angle. This change in geometry restores years of service to your fine collectible or heirloom instrument.

<![if !supportEmptyParas]> <![endif]>

Parts

In addition to shop management and customer service, Steve Steele is also responsible for our parts inventory and special orders. Steve will act as your liaison when you are seeking genuine manufacturer's parts for your restoration, and as a consultant when deciding to customize an instrument. He will help you find a replacement set of tuning machines for that dreadnought that your father bought in 1950, or help you select the replacement pick up and creative wiring options that are right for your custom solid body.
<![if !supportEmptyParas]> <![endif]>

Warranty Service
We are an authorized service center for most major guitar manufacturers including Martin, Gibson, Fender, Guild, Taylor, Ovation, and Yamaha. Additionally, we are the exclusive USA warranty center for two international companies: Lakewood Guitars and also the fine German classical maker, Hanika. We work directly with you and the manufacturer to reconcile problems and get the repaired instrument back in your hands as quickly as possible. Manufacturers usually state that the customer is responsible for maintaining the instrument. Set ups and adjustments can be compared to an automobile's tune ups and oil changes, which the owner usually pays for. Manufacturing defects manifested during the warranty period are covered by the manufacturer.
In an effort to better assist each customer regarding warranty requests, we ask that you provide the following information when presenting the instrument:
1. Proof of ownership – Most manufacturers require a legible copy of the original bill of sale indicating the customer's name, address, date of sale, and a description of the product including model and serial number.
2. Owner's current address, home, and work phone numbers
3. Specific problem with the instrument
4. Gauge and brand of strings used
5. Specific tuning of instrument (if not standard)
6. Upon completion of the work, the owner's signature and ID are required.


<![if !vml]>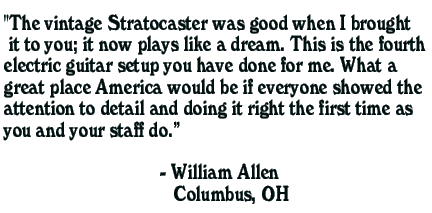 <![endif]>
Copyrightę 2000-2009
URL: http://www.JThomasDavis.com